Hey there, Salinas friends! It's an employee from A & G Facility Services, the leading janitorial services company in the heart of California. Remember the time I accidentally knocked over a paint bucket in my grandmother's living room? That's when I realized the magic of the janitorial business. But let's dive into what you came here for, janitorial services Salinas CA!
Why Salinas Loves A & G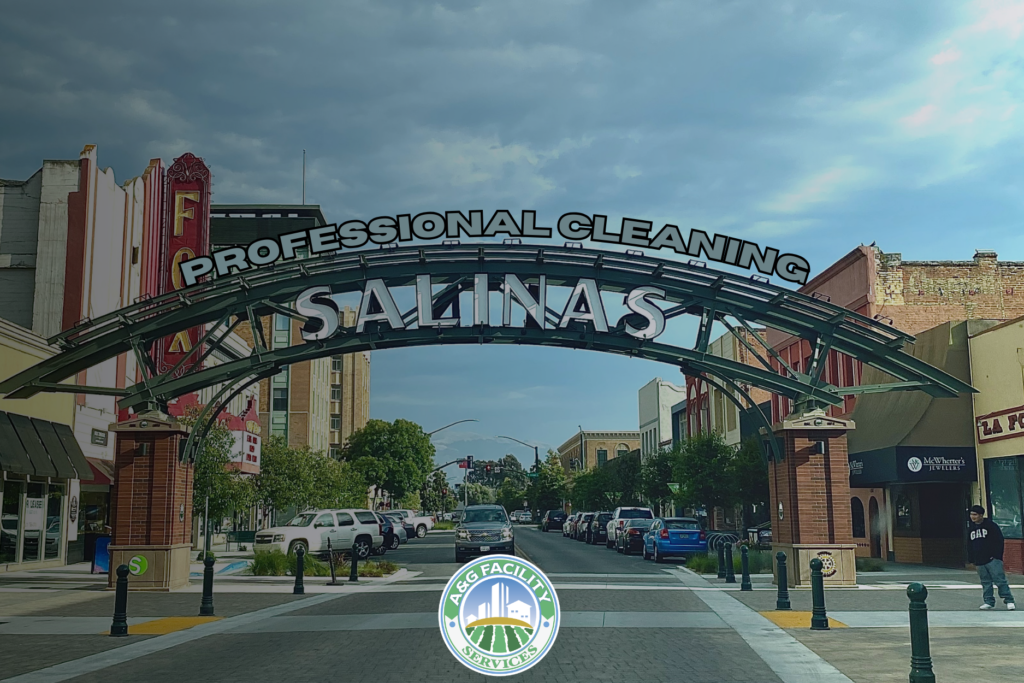 Being a renowned janitorial services company, especially here in Salinas, CA, we've woven ourselves into the fabric of this community.
Our Services
As one of the top commercial janitorial services in California, our offerings at A & G Facility Services cover a wide spectrum, ensuring every nook and cranny in Salinas is pristine. Here's an in-depth look:
Commercial Cleaning: When it comes to commercial janitorial services, we understand that businesses in Salinas, CA, and throughout California have unique needs. Whether it's a retail store bustling with customers or a quiet local cafe, cleanliness impacts the first impression. Our skilled team uses eco-friendly products and advanced techniques to ensure every commercial space reflects professionalism. By implementing thorough cleaning, businesses can create a safer environment.
Office Cleaning: A productive day in the office starts with a clean environment. Office spaces, especially in a busy area like Salinas, CA, can accumulate dust and clutter rapidly. Beyond just dusting and vacuuming, we delve deep into cleaning keyboards, sanitizing common areas, and ensuring that break rooms are spotless. After all, a clean office boosts morale and productivity.
Floor Cleaning & Waxing: A shining floor can transform the look of any space. Over time, foot traffic in commercial areas can dull the shine of floors. Our floor cleaning and waxing service, renowned across janitorial services in Salinas, CA, not only cleans but also waxes, ensuring floors are durable and retain their shine longer. Carlos, our floor expert, often jokes that he makes floors shinier than the California sun! Lastly, we provide full blown carpet cleaning in Salinas.
Window Cleaning: Clear windows let the radiant California sun pour in. Whether it's spotting fingerprints, dust, or watermarks, our team ensures that windows are crystal clear. Our janitorial services company uses streak-free cleaning solutions, guaranteeing clarity and shine. After we're done, you'll get a view of Salinas that's brighter than ever. Check out our guide to window cleaning in Monterey!
Deep Cleaning Services: Every space, over time, needs a thorough deep clean. Whether it's those corners that are often overlooked or behind heavy furniture, our deep cleaning service ensures every inch is immaculate. Maria, our deep cleaning maven, believes that deep cleaning is like a spa day for any space – rejuvenating and refreshing.
Eco-Friendly Commitment: Being a leading janitorial business in California, we feel a responsibility towards the environment. Salinas is our home, and we're committed to preserving its beauty. Our green cleaning products aren't just effective; they're also environmentally friendly, ensuring that we minimize our carbon footprint while delivering top-tier cleaning services.
What Sets Us Apart
In the vast sea of janitorial services in California, here's why A & G stands out:
Stay Chill: Cleaning, with a touch of zen.
Guarantee Satisfaction: Salinas deserves the best, and we aim to deliver.
Love Our Community: From baseball to bake sales, we're here, Salinas!
Communicate: Your feedback drives our janitorial business forward.
Tips for Maintaining a Clean Space
Running a janitorial services company has taught me a thing or two:
Daily Quick Cleans: A stitch in time saves nine.
Vinegar: A janitor's best-kept secret.
Dance While You Dust: It's therapeutic, trust me.
Stay Organized: Or else you'll find sandwiches from last season.
Frequently Asked Questions (FAQs)
Can you provide commercial janitorial services?
Absolutely! We specialize in commercial janitorial services for businesses in Salinas and throughout California. Whether you have a retail store, office, or café, we've got you covered.
What's the pricing for janitorial services?
Our pricing varies based on the size of the area, the specific services required, and the frequency of cleaning. To get an accurate quote tailored to your needs, please contact us directly.
Can you provide janitorial services for a healthcare facility?
Yes, we can. We understand the unique cleanliness and sanitation requirements of healthcare facilities. Our team is trained to handle these environments, ensuring a safe and sterile space.
Can we do monthly janitorial plans?
Definitely! We offer flexible monthly janitorial plans that can be customized based on your requirements. Whether you need daily, weekly, or bi-weekly cleanings, we'll set up a schedule that works best for you.
Are your cleaning products eco-friendly?
Yes, our commitment to the environment is unwavering. We use eco-friendly and effective cleaning products that not only ensure a clean space but also protect our beautiful Salinas environment.
Do you offer emergency cleaning services?
We understand that sometimes unforeseen situations arise. While we primarily operate on scheduled services, feel free to contact us about any emergency cleaning needs, and we'll do our best to accommodate.
How experienced is the A & G team?
Our team boasts years of experience in the janitorial business. From commercial spaces to specialized facilities like healthcare centers, we've tackled a wide range of cleaning challenges.
Do you provide services outside of Salinas, CA?
While Salinas is our home base, we do offer janitorial services in various parts of California. Contact us with your location to see if we can assist.
How do I book a cleaning session with A & G?
Booking with us is a breeze! Just reach out through our contact form, email, or phone. We'll discuss your requirements and set up a convenient time for your service.
What measures do you take for COVID-19 safety?
We prioritize the safety of our clients and team. We equip our staff with personal protective equipment and follow recommended guidelines to ensure a safe cleaning experience during these times.
Booking With A & G
Ready to experience the best janitorial services Salinas, CA has to offer? Let's get you started!
From the heart of Salinas to the broader stretches of California, our janitorial business believes in creating clean, happy spaces.
Yearning for a cleaner space in Salinas? Connect with A & G, the go-to janitorial services company in California. And for a sprinkle of cleaning humor and wisdom, check out our socials
Stay clean, stay chill, Salinas! 💚🧹