As the leading window cleaning company in the area, A & G Facility Services is dedicated to providing top-notch window cleaning services for both residential and commercial properties. Our team of highly skilled professionals is committed to delivering exceptional results that leave your windows sparkling clean and enhance the overall appearance of your property. In this blog post, we will discuss the importance of hiring window cleaning experts like us and why it's crucial for achieving optimal results.
Why Choose a Window Cleaning Company Near You
When it comes to window cleaning, it's always beneficial to choose a local company near you. Hiring a window cleaning company in your area offers several advantages. Firstly, it ensures quick response times and efficient service delivery. If you encounter any issues or have specific requirements, a local company can address them promptly, saving you time and hassle.
Additionally, choosing a window cleaning company near you helps support the local economy and community. By selecting a local service provider like A & G Facility Services. You contribute to the growth and development of your neighborhood. Moreover, local companies often prioritize customer satisfaction, as their reputation relies heavily on positive word-of-mouth and customer reviews.
Residential Window Cleaning: Enhancing Your Home's Appeal
When it comes to maintaining the aesthetic appeal of your home, clean windows play a crucial role. Over time, windows accumulate dust, dirt, and grime, which not only obstruct the view but also affect the overall appearance of your property. Hiring professionals for residential window cleaning ensures that your windows are cleaned thoroughly and efficiently.
Our expert window cleaners at A & G Facility Services have the knowledge and experience to handle various types of windows. Including single- and double-hung, casement, bay, and sliding windows. We use industry-leading cleaning techniques and state-of-the-art equipment to achieve streak-free and spotless results. Enhancing the beauty of your home both inside and out.
Window Cleaning Salinas: Trusting Local Experts
If you reside in the vibrant city of Salinas, California, you can rely on A & G Facility Services for all your window cleaning needs. Our company has been serving the Salinas community for years, and we take great pride in providing exceptional window cleaning services to our local residents.
By choosing a reputable local window cleaning company like ours, you can benefit from our extensive knowledge of the area. Including the weather conditions and environmental factors that may affect your windows. Our expertise allows us to tailor our cleaning methods and products to address any specific challenges posed by the Salinas climate, ensuring optimal results every time.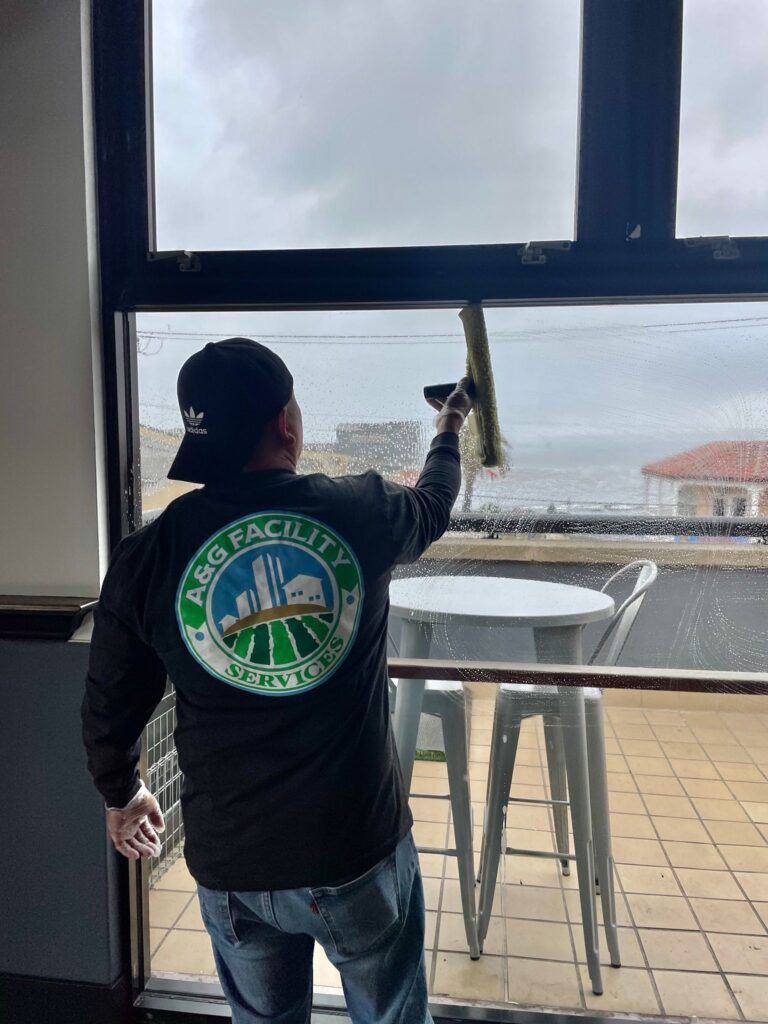 The Advantages of Commercial Window Cleaning
In addition to residential services, A & G Facility Services specializes in commercial window cleaning. Maintaining clean windows in commercial buildings is crucial for creating a positive impression on clients, enhancing employee morale, and improving the overall atmosphere in the workplace.
Commercial buildings often have large, expansive windows that require specialized equipment and techniques for effective cleaning. Our team of window cleaning professionals is trained to handle these challenges with precision and efficiency. By hiring us for commercial window cleaning, you can rest assured that your windows will be cleaned thoroughly, leaving them clear, bright, and inviting.
The Difference of Hiring Window Cleaning Professionals
When it comes to window cleaning, many homeowners and business owners may consider taking the DIY route to save costs. However, hiring window cleaning professionals offers numerous benefits that outweigh the initial investment. Here are some key advantages of relying on experts like A & G Facility Services:
a. Quality Results: Professional window cleaners have the necessary skills, experience, and equipment to deliver superior results. They can effectively remove tough stains, hard water spots, and other stubborn debris, leaving your windows spotless and crystal clear.
b. Safety First: Cleaning windows, especially those in multi-story buildings, can be dangerous and potentially lead to accidents or injuries. Window cleaning professionals are trained to handle such situations safely, ensuring their own well-being as well as the protection of your property.
c. Time and Convenience: Window cleaning can be a time-consuming task, particularly for larger properties. Hiring professionals allows you to focus on other important aspects of your life or business while leaving the window cleaning to the experts. They will complete the job efficiently, saving you valuable time and effort.
d. Long-Term Cost Savings: Regular professional window cleaning helps extend the lifespan of your windows by preventing the buildup of grime and contaminants that can cause damage over time. By investing in professional cleaning, you can avoid costly repairs or replacements in the future.
Trust A & G Facility Services for Professional Window Cleaning
In summary, when it comes to window cleaning, hiring experts like A & G Facility Services is the key to achieving optimal results. Whether you need residential or commercial window cleaning. Our team of professionals is equipped with the knowledge, experience, and state-of-the-art equipment to deliver outstanding outcomes.
By choosing a local window cleaning company near you, such as A & G Facility Services, you can benefit from quick response times, support the local community, and ensure personalized service tailored to your specific needs. Trust our dedicated professionals to enhance the appeal of your property and leave your windows spotless and gleaming.
For top-notch window cleaning services in Salinas and the surrounding areas, contact A & G Facility Services today. Experience the difference of working with true window cleaning professionals and enjoy the remarkable results that will transform your windows and elevate your space.