Hey there, folks! It's A & G Facility Services, and today we're diving deep into the wonderful world of house washing. We're here to share the ins and outs of soft washing your precious home. If you're searching for "house washing near me" or "home cleaning near me," you're in the right place. Let's roll up our sleeves and get to it!
The Power of Soft Washing
When it comes to keeping your home looking its best, soft washing is the gentle yet effective way to go. Unlike high-pressure power washing, soft washing employs a low-pressure method combined with environmentally-friendly cleaning solutions. This approach ensures a thorough and safe cleaning of your home's exterior surfaces.
Why Soft Washing Is the Way to Go
Here are a few reasons why soft washing is the superior choice for your home:
Gentle and Effective: Soft washing prevents damage to your home's siding, roofs, and delicate areas while still getting rid of dirt, algae, and grime.
Long-Lasting Results: The cleaning solutions used in soft washing not only clean but also inhibit future growth of unwanted organisms. This means your home stays cleaner for longer.
Environmental Friendliness: Soft washing uses biodegradable cleaning agents that won't harm your plants, pets, or the environment.
Preparing for Soft Washing
Before you dive into soft washing your home, it's essential to do some preparation:
Clear the Area: Move any outdoor furniture, toys, or items away from the cleaning area.
Protect Your Plants: Cover delicate plants with plastic sheeting to shield them from the cleaning solutions.
Secure Windows and Doors: Ensure that all windows and doors are closed tightly to prevent water seepage.
Soft Washing Surfaces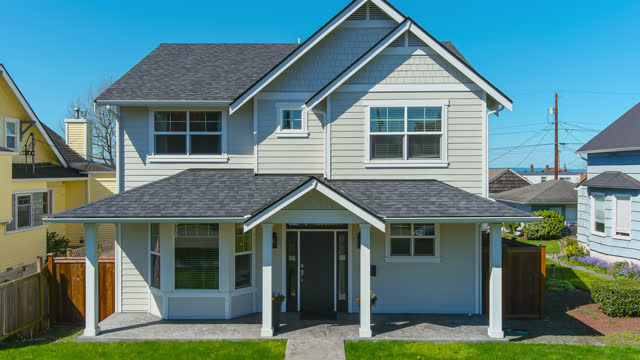 Let's break down the different surfaces you can clean with soft washing:
Siding: Soft washing restores the brilliance of your siding, removing accumulated dirt and preventing future discoloration.
Roof: Soft washing your roof eliminates those unsightly black streaks caused by algae and extends the life of your roof.
Decks and Patios: Soft washing revitalizes your outdoor spaces, making them look as good as new without causing any damage.
Soft Washing Steps
Here's a step-by-step guide to soft washing your home:
Inspect: Take a close look at the areas you plan to clean, noting any stubborn stains or areas requiring special attention.
Pre-Treat: Apply a biodegradable cleaning solution to break down dirt, algae, and grime.
Low-Pressure Rinse: Use a low-pressure nozzle to rinse away the cleaning solution, taking care not to damage the surfaces.
Final Inspection: Check for any spots that might need additional treatment.
Why Choose A & G Facility Services
When you search for "home cleaning near me" or "house washing near me," you want a reliable partner who knows their stuff. A & G Facility Services has got you covered:
Professional Expertise: Our team has the experience and knowledge to handle all your home cleaning needs.
Top-Notch Equipment: We use state-of-the-art equipment, ensuring a thorough and efficient soft washing process.
Customer Satisfaction: We're not satisfied until you are. Our goal is to leave your home looking stunning and you completely satisfied.
Keeping Your Home Clean and Beautiful
Regular soft washing not only enhances your home's curb appeal but also protects its structural integrity. It's an investment in the longevity and beauty of your property. Remember, when it comes to cleaning your home, soft washing is the way to go.
So, the next time you're looking for "house washing near me" or "home cleaning near me," think of A & G Facility Services. We're here to make your home shine!